Magnascent Iodine - 2%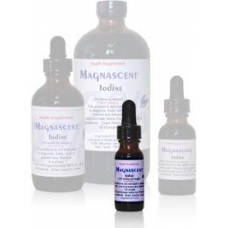 Product Code:
9
Reward Points:
0
Availability:
In Stock
Price: $21.00
Ex Tax: $21.00
MagNascent Iodine, is a consumable form of nascent iodine and is not produced chemically or electrolytically. For this reason, our product has a long shelf life and can be taken internally to provide nascent iodine to the body. Over 100 years ago, those who worked with iodine were searching for a method for producing nascent iodine within the body, and they went to extreme measures to attempt this. (See below story of Nichols from Medica Materia, the story of Nichols).
The history of our discovery and the patenting of our process began with a desire to help combat malaria in Southern Africa. In the year 2000, John Brookshire, an aerospace engineer with an passionate interest holistic healing, met a missionary struggling with the devastating effects of malaria and the inability of current treatments to combat malaria. A search of holistic treatments from the 1930's revealed a type of iodine used to treat various illnesses, including malaria. The exact formulation of this medicine from the 1930's appears to have been lost as the parent manufacturing company was bought and sold many times within a few years. A second method for producing this iodine had been recommended at the time, but was far too costly and time-consuming to be produced in the depression era of the 30's.

With current technology and determination, the historical process was refined to produce a revolutionary new product. Through a series of "coincidences" or synchronicity, certain people came together with the right information which led to the discovery and implementation of Magnascent Iodine.

In June of 2005, nascent iodine was produced for the first time since the 1930's. The missionary and his family decided to try this iodine supplement and found it effective against malaria. They had already been using a non-nascent iodine supplement, an energized iodine which was effective in helping health situations in Africa. After the first use of this new iodine in the nascent state, the missionary excitedly reported, "This product is amazing! Just amazing!" That seemed to be the only word that he could use in describing our product.

At this point it was realized that the nascent state of iodine in consumable form had been achieved. There was no other explanation for a 1 % tincture of iodine to be so effective in the body. This iodine supplement was supplied for the missionary's health clinic and other clinics in the area to meet an iodine deficiency in that part of Zambia.

The process for the discovery of a consumable form of nascent iodine was put into a patent application by John Brookshire to insure that this discovery would no longer be lost to mankind, as the process used in the 1930's had been lost, when the discoverer of that version died without revealing the formulation.
MagNascent™ is packaged in 1 oz. glass, dark amber bottles. Each drop provides 200 mcg of nascent iodine which is the RDA for an adult. Store in a cool, dry place.
For More Information: http://www.magnascent.com/AboutNascentIodine.aspx
Write a review
Your Name:
Your Review:
Note: HTML is not translated!
Rating:
Bad
Good
Enter the code in the box below: