Bolouke 60 C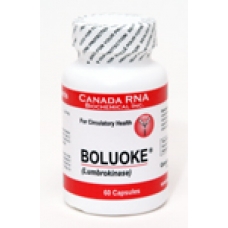 Product Code:
107
Reward Points:
0
Availability:
In Stock
Price: $99.85
Ex Tax: $99.85
Bolouke® (Lumbrokinase) is a clinically proven fibrinolytic agent, and is an excellent complementary supplement for restoring and maintaining circulatory health. Its effects are supported by human clinical data, and it has been shown to be safe, effective, and well tolerated.
Boluoke: Fibrin-dissolving enzyme from earthworms that protects from heart disease
The BEST oral enzyme for blood health
For many centuries, earthworm has been used in Far Eastern traditional medical practice for conditions associated with circulatory abnormalities. It was recorded in the "Ben Cao Gang Mu," the traditional Eastern world's pharmacopoeia, as a potent medicine for "Liver Wind Uprising" and "Channel Blockage" conditions.
In order to elucidate the power of earthworms, Japanese scholars Dr. Hisashi Mihara and others succeeded in extracting a fibrin-dissolving enzyme fromLumbricus rubellus in the 1980s. This enzyme was later found to consist of a few proteolytic sub-enzymes which are collectively named lumbrokinase. Lumbrokinase is also referred to as earthworm fibrinolytic enzymes (EFE), earthworm powder enzymes (EPE), or e-PA.
Since then, many Chinese and Korean researchers have compiled extensive scientific and clinical data on lumbrokinase extracted from Lumbricus rubellus andEisenia fetida. In Japan and Korea, lumbrokinase has been the main ingredient in "Dragon Heart," a popular health supplement for supporting circulatory health. In China, earthworm protein extracts and lumbrokinase have been studied thoroughly and have been used to support a healthier blood state. As science and technology have advanced over the last century, so has the knowledge about the active constituents in traditional medicine.
First, there were the dried earthworms used in traditional Oriental medicine decoctions, and then there was ground-up earthworm powder. Later came the granular crude extract of earthworms, and now there is Boluoke®, a nutraceutical product containing purified enzymes extracted from earthworms. (Pronounced Boh-LUKE.) Just like the Omega-3 molecules in fish oil, the polyphenols in green tea, and curcumin and turmeric, the group of enzymes called lumbrokinase shall in time be known as a valuable characteristic of earthworms.
Boluoke (lumbrokinase) is the only fully researched oral enzyme on the market supporting a healthier blood state, and it shows great promise in supporting a healthy balance of coagulation and fibrinolysis in the body.
The coagulation system is a complicated and highly regulated system. Modern lifestyles often tip the balance toward hypercoagulation, but rarely toward hypocoagulation. For most people, Boluoke can support the body in keeping the system in a more balanced state. Some practitioners are also recommending Boluoke for those who choose to be on hormone replacement therapy or birth control pills, or for those who cannot tolerate standard preventative pharmaceutical drugs.
Hypercoagulation and Why You Should Care
Hypercoagulation is a thickened blood state, and means that the body is producing fibrin strands faster than it can break them down. When this happens, the fibrin may get deposited on the capillary walls, and this impedes the delivery of oxygen and nutrients from the blood into the tissues, and waste chemicals from the tissues out to the bloodstream. If this situation is sustained for a prolonged period of time, the tissues of the body will gradually become hypoxic (lacking in oxygen) and malnourished. The end result is often an acidic tissue environment, pain, lack of energy, and the decline or loss of organ functions. Hypercoagulation also predisposes a person to clot formation (as in strokes or heart attacks) in blood vessels if atherosclerosis is already present.
Research has clearly shown that hypercoagulation is often present in patients with chronic illnesses. If the hypercoagulation condition is not addressed in these patients, they often do not improve, or they relapse easily.
Hypercoagulation is often present in the following conditions:
| | |
| --- | --- |
| Cancer | Angina |
| Diabetes | Heart attack history |
| Fibromyalgia | Transient ischemic attacks |
| Crohn's Disease | Ischemic stroke history |
| Lyme Disease | On birth control pills |
| Multiple Sclerosis | On Hormone Replacement Therapy |
| Meniere's Disease | Thrombocythemia |
| Chronic Fatigue Syndrome | Deep venous thrombosis |
| Chronic infections | Being on long air flights |
| Lupus | Hip fracture |
| Gulf War Syndrome | Ulcerative colitis |
| Excessive heavy metal burden | Polycythemia |
| Elevated serum fibrinogen | Vascular dementia |
| Elevated Serum CRP | Autism |
| Elevated serum Lp(a) | ADD/ADHD |
| Elevated homocysteine | Habitual miscarriages |
| | Infertility |
Of course, the cause of hypercoagulation must also be addressed in order to achieve a lasting improvement. Some of the most common causes of hypercoagulation are infections, coagulation protein defects (inherited), and heavy metal or chemical toxicities.
Frequently Asked Questions About Boluoke
Does Boluoke have any side effects?
The earthworm has been used in Traditional Chinese Medicine for thousands of years and it is considered to be one of the safest ingredients in the traditional pharmacopoeias. The studies on Boluoke have shown that when taken at high dosage, some people might experience nausea, diarrhea, bloating, skin rashes, or itching, but these resolve when the product is stopped.
In one of the largest clinical studies of Boluoke involving 16 hospitals and 1560 patients in China, the overall adverse reaction rate was 1.92% (30 cases). Of these 30 cases, 9 (0.58%) had skin itching, 3 (0.19%) had skin rash, and 18 (1.15%) had nausea or diarrhea. No bleeding or major side effect was reported.
How long before surgery should a patient stop taking Boluoke?
The conservative approach would be to stop Boluoke one week prior to surgery. The patient may resume taking Boluoke 15 days after surgery if there are no complications, or earlier if the physician deems it appropriate.
Can Boluoke be safely taken if a patient is on blood-thinning agents?
Boluoke does not significantly affect blood tests such as prothrombin time (PT) or activated partial thromboplastin time (aPTT), and thus it does not affect INR. However, patients should always consult their physicians before taking Boluoke while on any prescriptions.
How does Boluoke compare to Nattokinase?
The fibrinolytic strength of Boluoke is unmatched by any other enzyme on the market. Research has shown that 2 capsules of Boluoke, containing a total of 40mg lumbrokinase, is much more potent than 20 capsules of nattokinase, containing a total of 720mg nattokinase. This is a potency difference of more than 18-fold. To view these research results, click here for Page 1 and here for Page 2.
Can the content of Boluoke capsules be emptied out and taken without the capsules?
The capsules used for Boluoke are enteric-coated. They are designed to resist stomach acid and dissolve in the small intestines, because lumbrokinase may be inactivated by stomach acid. Preliminary in-house tests using a Sonoclot® machine (manufactured by Sienco, Inc.) indicate that Boluoke is still effective when taken without the capsules on an empty stomach. However, it is highly recommended that the patients take Boluoke in its original encapsulated format whenever possible.
Are there any contraindications for taking Boluoke?
Contraindications for Boluoke are: allergy to lumbrokinase or earthworm; recent surgery; pre-surgery; lumbar puncture or arterial puncture; trauma; active internal bleeding or GI ulceration; any other bleeding disorders or tendencies. Patients should always consult their physicians before taking Boluoke. Being on a strong anti-platelet medication like Plavix or Ticlid is a relative contraindication for taking Boluoke.
Can I take Boluoke if I am currently on other prescription medications?
Boluoke has been safely used by many patients with various medical conditions, and to date there are no known interactions between Boluoke and any prescription medicines. However, patients should always consult with their physician before taking Boluoke.
Can Boluoke be taken with other enzyme products?
There is a theoretical possibility that Boluoke may be cleaved and rendered ineffective by other enzymes, so we currently do not recommend taking Boluoke at the same time as another enzyme product. If you must take other enzyme products while on Boluoke, try to space more time between the dosing of the two enzyme products (i.e. at least 2 hours).
How is Boluoke different from other products that contain lumbrokinase?
Boluoke is the only lumbrokinase that has been thoroughly researched and its enzymatic strength standardized. Other lumbrokinase products currently on the market may cite Boluoke's credentials and research, but are not disclosing the enzymatic strength of their lumbrokinase. On the raw material market, the price of lumbrokinase can vary by up to 15-fold, and the enzymatic strengths of various forms of lumbrokinase also differ greatly.
In addition, lumbrokinase is a preparation containing multiple enzyme fractions, and the extraction and purification methods would determine the final compositions of the various enzyme fractions. Therefore, different products would have different lumbrokinase compositions and cannot be considered the same. This is also the reason why Boluoke does not significantly affect blood tests like prothrombin time (PT) or activated partial thromboplastin time (aPTT), while other lumbrokinase products may affect the test results.
DISCLAIMER: These statements have not been evaluated by the Food and Drug Administration. This product is not intended to diagnose, treat, cure or prevent any disease.
Supplement products that contain natural ingredients may have color, texture, odor or flavor variations between different lot numbers
Dosage Form: Gelatin Capsule

Servings: 60
Each serving (1 capsule) contains:

Proprietary earthworm protein extract (Bolouke® Lumbrokinase) 20 mg

Other Ingredients: Cornstarch. gelatin.
Recommended Usage: Take one capsule one to three times daily 30 minutes before a meal. For maximum benefit, take 2 capsules three times daily 30 minutes before meals for 3 weeks or as directed by your healthcare professional.

Storage: Store in a cool, dry place.

Warnings: Please consult your physician before taking this product or any other health supplement, especially if your are on any prescription medicine, are pregnant or have bleeding risks. People with known allergy to lumbrokinase should not take this product.
Write a review
Your Name:
Your Review:
Note: HTML is not translated!
Rating:
Bad
Good
Enter the code in the box below: