CES Ultra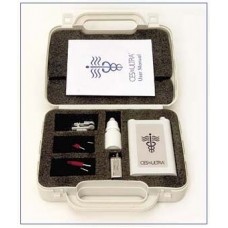 Product Code:
26
Reward Points:
0
Availability:
In Stock
Price: $349.00
Ex Tax: $349.00
CES, or cranial electrotherapy stimulation, is a therapeutic procedure using minute battery-powered current for
the treatment of anxiety, depression, and insomnia.
Stimulation is generally applied through electrodes, small conductive gel pads, placed between the ears and
the jaw. Physicians, however, may vary the site of treatment based on their own protocol or employ conductive
rubber ear-clips in lieu of electrodes. The sensation is quite mild. The most a patient will experience during a
session is a gentle tingling sensation.
Treatment Regimen
CES is prescribed and monitored by a health-care professional and is typically administered once or twice a day
for 30-45 minutes over a period of one month, after which the frequency may be reduced to twice or three times
weekly. Positive results may be experienced almost immediately; though some patients might require as long as
a month. For lasting benefits, treatment should be continued at irregular intervals, on an as-needed basis.
Advantages
CES is non-invasive and user friendly. It has an unblemished safety record, and virtually no negative sideeffects. It should be considered before the adoption of a pharmaceutical regimen.
Technical Specs
Frequency: 100 Hz
Power source: 9V alkaline battery
Wave Shape: Square
Amplitude: Adjustable from 0-1.5 Ma
Pulse Duration: 2 milliseconds (20% duty cycle)

Features
User Friendly :: Ease of Application, Single Control Setting, Personal Timer

Efficient :: Automatic Shut-Off, Low Battery Indicator

Comfortable :: Choice of Pre-Gelled Electrodes or Ear-Clips

Convenient :: Compact, Portable, Hand-held or placed in pocket

Secure :: Rugged construction, Flame retardant, Fitted carrying case
Write a review
Your Name:
Your Review:
Note: HTML is not translated!
Rating:
Bad
Good
Enter the code in the box below: