Core - Mineral Capsules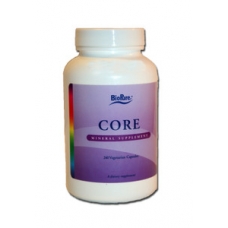 Product Code:
31
Reward Points:
0
Availability:
In Stock
Price: $72.00
Ex Tax: $72.00
The Core Mineral Supplement. Essential Vitamins and Minerals. 240 Veggie Capsules.

Adult serving size: 4 capsules daily. Bottle contains a two month supply.

Supplement Facts: Serving Size 4 Vegetarian Capsules
Vitamin B-6 75 mg (3,750% DV) (as Pyridoxine HCl and Pyridoxal-5-Phosphate.
Biotin 8,000 mcg (2,667% DV.)
Elemental Zinc 40 mg (267% DV) ( from Opti-Zinc, Zinc Monomethionine,) Zinc Glycinate, Zinc Gluconate, Zinc-Picolinate.
Manganese (from Manganese Glycinate) 7 mg (350% DV).
Chromium (as Chromium Chelate) 500 mcg (417% DV).
Molybdenum ( as Molybdenum Krebst) 400 mcg (533% DV).
Boron (as Boron/Aspartate/Citrate/Glycinate complex) 3 mg (* DV).
L-Taurine 85 mg (* DV).
Magnesium Glycinate (providing less than 2 mg magnesium) 10 mg (* DV).
*Daily Value not established.
Other Ingredients: Silica, Cellulose. +Krebs= Citrate, Fumarate, Malate, Glutarate and Succinate Complex.

Dosages, indications and any other information contained herein is suggested use only and not to be considered treatment recommendations. Please consult with a healthcare provider for treatment of any illness or condition, especially if you are pregnant, breast-feeding or considering treating a child. We suggest that you consult a licensed physician if you have any health problems and you require a medical diagnosis or medical advice or treatment. Our products are not intended to diagnose, treat, cure, or prevent any disease. For all matters that relate to your health, please contact your physician.
Write a review
Your Name:
Your Review:
Note: HTML is not translated!
Rating:
Bad
Good
Enter the code in the box below: