Drenamin 360 Tablets Standard Process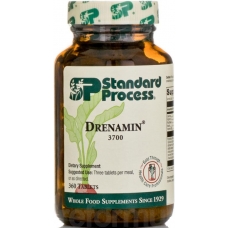 Product Code:
66
Reward Points:
0
Availability:
In Stock
Price: $42.00
Ex Tax: $42.00
Drenamin is a special combination product formulated to help maintain the healthy functioning of the adrenal glands, which are involved in innumerable physiological functions inside the body. Drenamin accomplishes this by supplying vital nutrients combined with bovine adrenal tissue proteins and bovine adrenal PMG extracts.
Suggested Use
Three tablets per meal, or as directed.
Supplement Facts

Serving Size: 3 Tablets

%DV
Calories
5
Vitamin C
9 mg
15%
Riboflavin
1 mg
60%
Niacin
12 mg
60%
Vitamin B6
0.3 mg
15%
Three tablets supply approximately: 50 mg bovine adrenal and 40 mg bovine adrenal PMG extract.
Proprietary Blend: 730 mg
Calcium lactate, defatted wheat (germ), bovine liver, bovine adrenal, porcine stomach, nutritional yeast, bovine adrenal PMG extract, choline bitartrate, alfalfa extract, dried buckwheat (leaf) juice, buckwheat (seed), magnesium citrate, oat flour, mushroom, bovine bone, para-aminobenzoate, allantoin, porcine brain, veal bone, carrot (root), soybean lecithin, rice (bran), and mixed tocopherols (soy).
Other Ingredients: Honey, cellulose, niacinamide, ascorbic acid, calcium stearate, riboflavin, and pyridoxine hydrochloride.
Write a review
Your Name:
Your Review:
Note: HTML is not translated!
Rating:
Bad
Good
Enter the code in the box below: